It's the utter silence that gets you. When you first arrive, when you see over the edge of an Arabian Grand Canyon, it all seems too vast to be so still. Jabal Akhdar is part of the Al Hajar mountain range, one of Oman's most spectacular regions. Perched here 2,000 meters above sea level, Hotel Alila Jabal Akhdar overlooks a dramatic gorge, surrounded by awe-inspiring views of the Al Hajar Mountains. Once a land of rebel tribes, these remote mountains now host Oman's newest, hippest, wilderness hotel - a blend of Asian minimalism and traditional Arabian design, sound chic enough for you.
The look is low-key and fabulous: dry-stone walls, eucalyptus-log balconies, a simple juniper branch painted on one white wall in each room, all of which have lavish freestanding marble baths. There are studded antique doors, natural stone floors, big old beams of dark iroko wood, delicate steel friezes of carved roses and frankincense wafting everywhere. And a black-granite infinity pool looking out over that canyon, with the endless stillness of the mountains all around.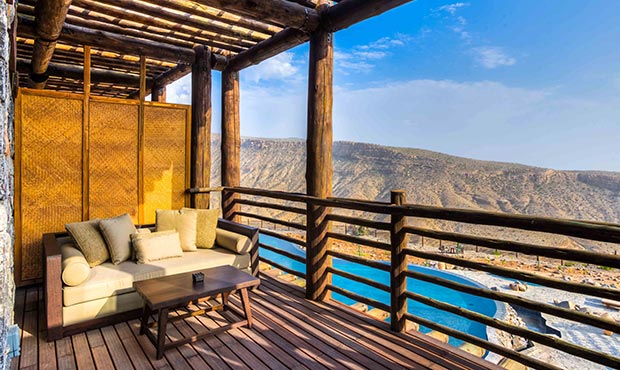 This Oman resort is the perfect base for exploring the region's magnificent landscape of rugged, untouched beauty while experiencing the height of sumptuous comfort. The property is a haven for adventure travelers, nature lovers and those seeking a retreat from the desert heat.
The resorts 78 Mountain and Horizon suites at 560 sq ft offer sweeping views, luxurious furnishings and a terrace. Sprawling over 3800 sq ft, the resort's two exclusive Jabal Villas combine an indulgence of indoor and outdoor space with the most amazing views you can imagine. While appreciating the privacy that surrounds each villa, revel in the openness throughout the villas' two bedrooms with en suite bathrooms, large living room, dining room, kitchenette, private terrace and pool.